The European Union has announced that it will provide almost €9m (£7.98m) in funding for a 30-acre park that will cross the Northern Ireland border.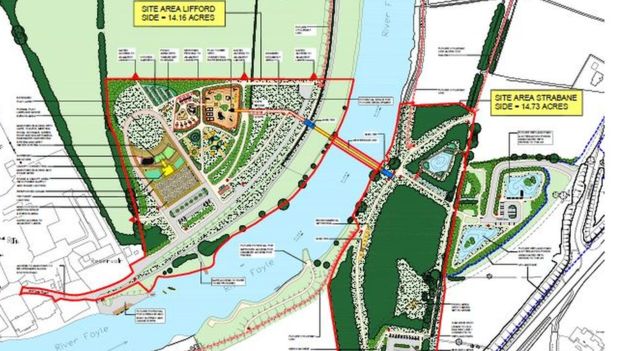 The Riverine project, which is designed to increase cross-border understanding, will stretch from Strabane, a town in west Tyrone, to Lifford, a town in the neighboring county of Donegal.
The money comes from a €270m pot of funding that was created by the EU in 2014 to support peace and reconciliation projects in both Northern Ireland and the counties in Ireland that sit along the seamless border.
Some €9m will also be provided by Ireland's rural and community development department, and Northern Ireland's communities department.
Gina McIntyre, from the EU body that awards the funding, noted that the project would create a "shared space which citizens can enjoy together, irrespective of their background."
The money will be used to build a pavilion building, outdoor wetland and park space, cross-border pathways, and a pedestrian footbridge that will span the River Foyle. Riverine will host a community heritage engagement programme and a culture and peace activity trail.
A creative arts programme and a shared space connections project are also planned.
Mayor of Derry City and Strabane District Council Michaela Boyle said that the project could be a "real catalyst for transformation" and said that it would "further strengthen" cross-border links.
Ireland's Minister for Rural and Community Development, Michael Ring, said the EU funding "is a major boost for the area".
Tracy Meharg, Permanent Secretary for the Department for Communities said the project "provides a great opportunity to further our ambitions for a shared, welcoming and confident society that respects diversity."
http://investderrystrabane.com/wp-content/uploads/2018/04/InvestDerry_Strabane_logo_small-003.jpg
0
0
Adam Goodall
http://investderrystrabane.com/wp-content/uploads/2018/04/InvestDerry_Strabane_logo_small-003.jpg
Adam Goodall
2019-06-19 11:05:04
2019-06-19 11:05:06
Investment of £8m by EU into Strabane and Lifford Riverine Project.