Working in your dream role doesn't have to involve a long commute, huge rents and the stresses of big city living.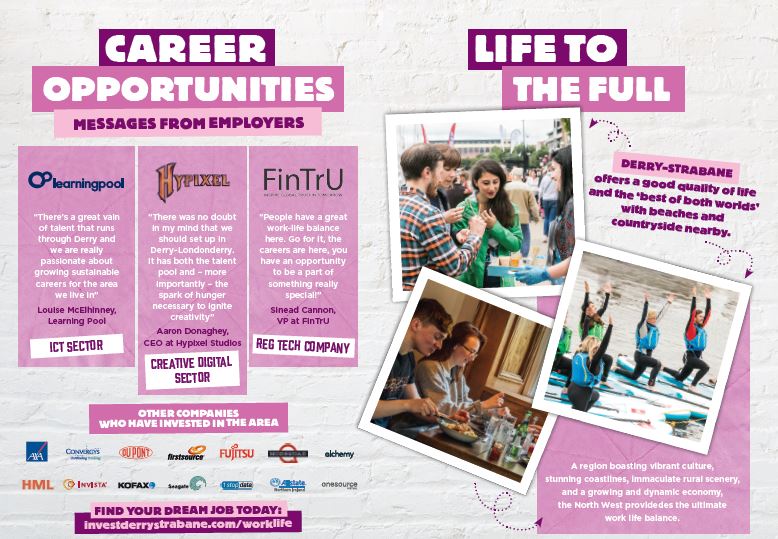 A return to the North West can give you all-important career progression, AND a competitive salary, without sacrificing your quality of life.
In Derry and Strabane, you'll find corporate positions with big-name multinationals, skilled jobs with thriving local firms, or even the support to set up your own venture.
And with shorter journeys to work than most major UK cities, you can clock off for the day and be back home – or on the beach or golf course – in no time at all.
But don't just take our word for it. Here's what some of our brilliant employers say:
"We are matching Derry's strengths with our needs. It has a fantastic educational base; it has a fantastic demographic base. There is a tonne of flexibility here." – Modsquad
"By establishing our European operations here, we are in a stronger position to target opportunities within UK and Europe and expand sales and ensure future growth of our business." – OneSource Virtual
"Our experience in Northern Ireland far exceeded our expectations. We came here originally for the cost savings. We find ourselves staying for the people and the talent that's available." Allstate NI
If you're interested in moving back to the North West, check out the companies recruiting and explore what the region has to offer at https://investderrystrabane.com/worklife. Your journey home starts here!
https://investderrystrabane.com/wp-content/uploads/2018/04/InvestDerry_Strabane_logo_small-003.jpg
0
0
Adam Goodall
https://investderrystrabane.com/wp-content/uploads/2018/04/InvestDerry_Strabane_logo_small-003.jpg
Adam Goodall
2023-09-12 11:28:29
2023-09-12 11:28:33
Move home for the best of both worlds