12 Days of Christmas – what to eat, drink, buy and do

We've made a list (and checked it twice) of some of the finest things to enjoy in Derry and Strabane this festive season. Whether you're returning from overseas or based here, we've got Christmas wrapped up for you.
To buy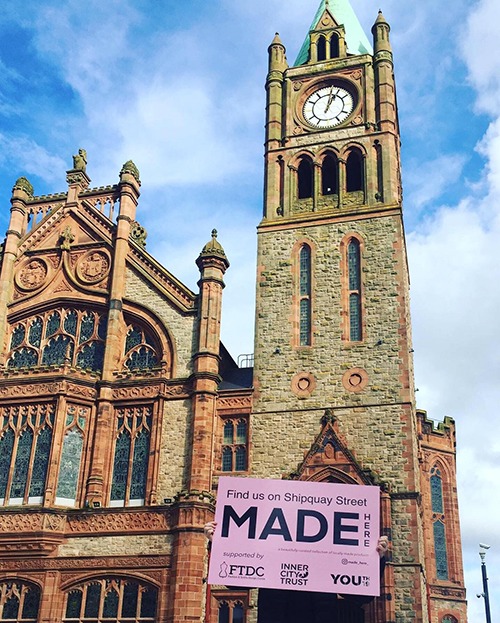 Made Here – You'll find beautiful creations from some of the district's most innovative designers in Made Here on Shipquay Street, Derry-Londonderry, including In Chlomo, from Strabane's Chloe McColgan.
Velveteen Handmade – Rachel Kelly's beautiful embroideries – from storybook-inspired pictures to appliqued cotton purses – make excellent Christmas gifts. View her pieces at the Craft Village's Walled City Crafters.
Little Acorns Bookstore – Jenni Doherty's independent book shop in Derry-Londonderry's Society Street is a treasure trove of new and old books. You'll also find local arts and crafts, literary gifts and must-have Derry Girls mugs.
To eat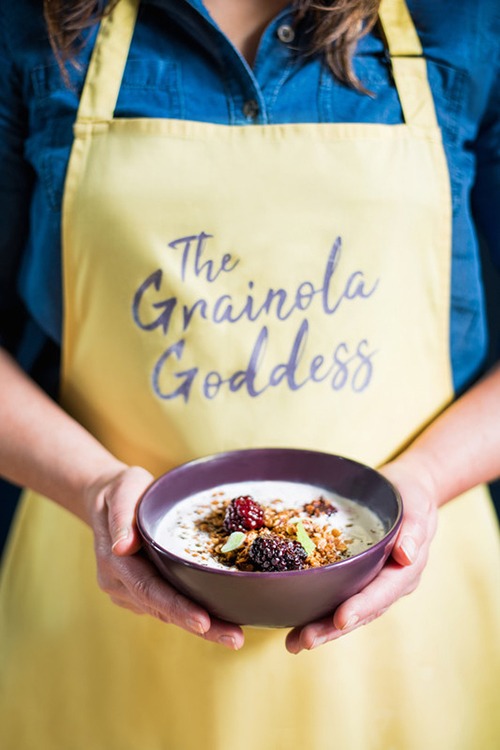 With Love Recipes – Overindulged this festive season? Strabane woman Sharron McCormick's range of guilt-free desserts, sauces and more are a delicious, healthier way to continue the celebrations.
Dart Mountain Cheese – Julie and Kevin Hickey's award-winning range of artisan cheeses are handcrafted in the Sperrins and include the Banagher Bold local ale washed cheese and the creamy, flavoursome Sperrin Blue.
Grainola Goddess granola – Made using upcycled spent grain from the Walled City Brewery, Grainola Goddess' delectable range includes Bountiful Berry (with dried cranberries, apricots and cherries), Scrumptious Spice, and Gorgeous Gluten Free.
Ukulele Chocolate – This Derry-based chocolate, from husband and wife team Donal and Sinead, is organic, melt-in-the-mouth, and oh so moreish. Even better, it's made from sustainable, planet-friendly ingredients. Guilt-free chocolate… What's not to love?
To drink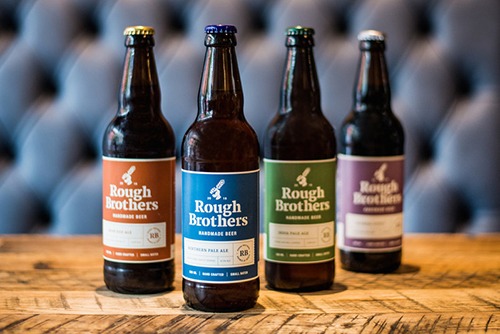 Foyster – This creamy new oyster stout showcases our native, sought after, Lough Foyle Irish Flat Oyster. A collaboration between the LegenDerry Food and Drink Network's Walled City Brewery and Sippy Fest, it uses leftover oyster shells to make a delicious, old-style stout with a hint of saltiness.
Quiet Man Irish Whiskey – This award-winning, Derry-Londonderry based craft whiskey is expertly distilled in small batches and the ideal tipple to relax with on a cold winter's night.
Rough Brothers – This handmade beer is brewed in Derry-Londonderry and the product range includes pale ale and red ale. You can also try its specially created Mekong Street Beer at Mekong Street Food (and a Beer 57, for Pyke 'N' Pommes, is also in the pipeline).
To do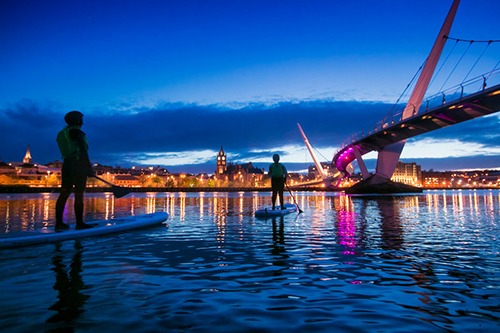 Christmas Winterland Markets – Soak up the atmosphere, meet artisan traders selling local arts and crafts, taste seasonal delights and relax over a mulled wine at these markets in Derry-Londonderry's Guildhall Square. Dec 12th to Dec 15th.
Snow White and the Seven Dwarfs pantomime – Enjoy the classic fairytale with some modern local twists – and plenty of gags for the grown-ups – at the Millennium Forum from December 4th to 29th.
The Snowman and Other Christmas favourites – Join the Allegri choirs and the recently formed Orchestra North West symphony orchestra as they present The Snowman and a host of Christmas classics. The Guildhall, December 15th.
Far and Wild Adventures – Treat yourself or an adventurous loved one to a moonlight kayak tour, archery, a foodie cycling tour, boom board adventure or urban mountain biking with Derry-Londonderry's Far and Wild Adventures. Gift vouchers are also available.
Christmas Day dips – Feeling brave? Why not unpeel yourself from the sofa (and get out of Christmas dinner duties) and take part in one of the Christmas Day charity swims taking place on beaches around the North West.
https://investderrystrabane.com/wp-content/uploads/2019/12/1234_Paddle-Boarding-2.jpg
500
822
Ciaran McKane
https://investderrystrabane.com/wp-content/uploads/2018/04/InvestDerry_Strabane_logo_small-003.jpg
Ciaran McKane
2019-12-17 15:53:42
2019-12-17 15:53:43
12 Days of Christmas – what to eat, drink, buy and do