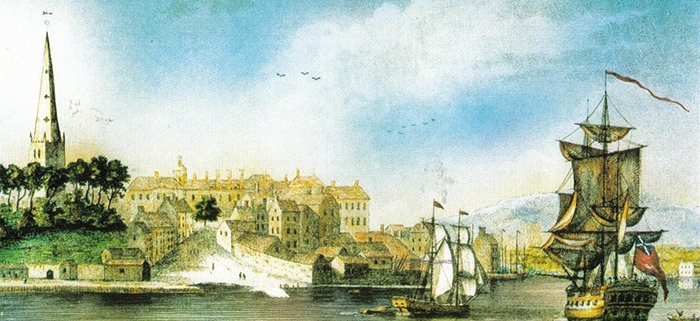 From the late 1600s, in the age of the sailing ships, to the onset of the Second World War in 1939, when the last transatlantic steamer sailed from the port, Derry was one of the principal emigration ports in Ireland.
From 1680 to 1860, Derry was the port of departure for the people of Derry, Donegal and Tyrone. With the development of steamships and railways from 1861 to 1939, migrants from Ulster, north Connacht and north Leinster left Ireland through Derry.
In 1883, emigrant departures from Derry exceeded the number that went through the port in the peak famine year of 1847 (12,385); when 15,217 emigrants boarded 154 steamers calling at Moville, with 10,496 destined for the United States and 4,721 for Canada.
Annual Emigration Reports from the Port of Londonderry published in the Londonderry Sentinel show that between 1877 and 1897, 193,887 passengers embarked at Moville for North America; with 153,886 destined for USA and 40,001 to Canada.
The journey for 9 million of the Irish Diaspora, now living in Great Britain, the US, Canada, Australia, New Zealand and South Africa, began in Derry. Their ancestors boarded a sailing ship at Shipquay Place, or stopped at Gweedore Bar, Waterloo Street, on their way from west Donegal to Glasgow on the Scotch Boat. They may have lodged in Bridge Street and then headed down the Foyle, on a tender, to connect with transatlantic liners at Moville.
Derry remained a major Irish emigration port throughout all significant periods of emigration from Ireland, including the 18th century outflow of Ulster-Scots to colonial America; pre-Famine, Famine and post-Famine emigration to North America; and cross-channel migration to Britain via Glasgow and Liverpool.
Just as Ellis Island is seen as the entry point for American immigrants (100 million Americans can trace an ancestor back to Ellis Island), Derry can be positioned as the starting point of this journey.
Bernadette Walsh, Archivist
bernadete.walsh@derrystrabane.com
Brian Mitchell, Genealogy
https://investderrystrabane.com/wp-content/uploads/2019/07/Derry-quay-1793.jpg
450
700
Ciaran McKane
https://investderrystrabane.com/wp-content/uploads/2018/04/InvestDerry_Strabane_logo_small-003.jpg
Ciaran McKane
2019-07-03 10:57:25
2019-07-03 11:11:09
Derry and its Diaspora