Strabane Community Project's 'Grass Roots Café & Food Market' joint winner of £2k Social Enterprise Competition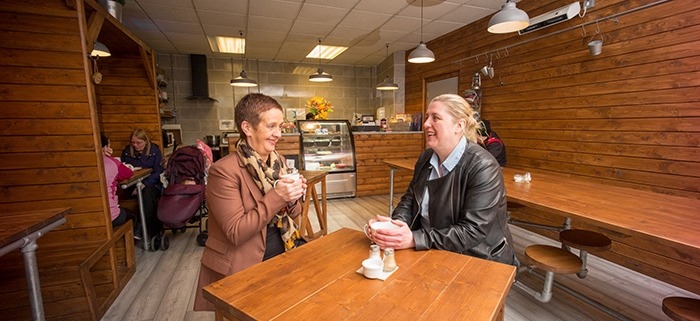 Strabane Community Project's new 'Grass Roots Concept' has been announced as a joint winner of this year's £2k Social Enterprise Competition run by Derry City & Strabane District Council as part of Enterprise Week 2019.
£2,000 from the Council's 'Social Enterprise Innovation Seed Fund' was up for grabs recently at Strabane District Caring Services as budding social entrepreneurs from throughout the City & District pitched their creative ideas for innovative projects they want to see get off the ground.
Following the Social Enterprise Competition, £1k has now been awarded to 'Strabane Community Project' and 'The Playtrail' to help both groups set up a new shop / kitchen and training facilities.
Strabane Community Project will use the prize money to purchase cooking utensils, crockery and chefs' clothing for larger kitchen facilities which will offer training opportunities and cooking workshops for people in the local area.
Set up in 1987 to support older and more vulnerable residents in the area, Strabane Community Project also opened one of Northern Ireland's first 'social supermarkets' under the management of Ursula Doherty in January 2018 to help people living in food poverty.
The innovative new 'social supermarket' sells products reduced in price by up to 70% to people receiving welfare payments and tax credits. This allows them to purchase a range of cheaper items – including fresh and frozen food, dried goods, as well as fruit and vegetables – provided as surplus stock by the charity Fare Share
Ursula Doherty, Manager of Strabane Community Project said: "We're delighted to have been awarded £1k from the Social Enterprise Innovation Seed Fund!
"This will make a huge impact in terms of us being able to buy cooking utensils, crockery and chefs' clothing to help us to take this exciting project forward.
"At the Strabane Community Project we've always been keen to develop a range of skill-building programmes, including cooking skills, money management and personal development, education programmes, training, etc.
"Our café has also been greatly supported by the public and local businesses, community groups and outreach services who make use of the facilities to deliver meetings and events.
"Our plans are under way for phase 2 of Grass Roots and work will be commencing in early April of the installation of a new larger kitchen to meet that increasing demand. Indeed, it will also be a 'training kitchen' providing Level 1 & 2 accreditation in catering & hospitality. Non-accredited courses will also be available for families and individuals who'd like to learn cooking skills or 'How to cook on a budget' programmes which will be delivered by the NW Regional College.
"Importantly, we're keen to help people come together and learn more about cooking – and in doing so better promote healthy living for residents in Strabane and the surrounding areas."
Danielle McNally, Business Officer with Derry City & Strabane District Council and a member of the four-strong panel who judged the £2k Social Enterprise competition, said: "I was delighted to judge this year's pitching competition and hear from the many groups and social entrepreneurs from across the Council area who are interested in developing their new project idea.
"Importantly, the 'Social Enterprise Innovation Seed Fund' is about rewarding and encouraging creativity, talent and innovative ideas within social enterprise.
"As part of this year's prize package both 'Strabane Community Project' and 'The Playtrail' will not only secure £1k in financial support, but can also avail of business support services from the Council which will help them grow.
"Indeed, it's wonderful to see that funding for the larger working kitchen will provide much-needed training opportunities – and also benefit this great community space that is doing so much to unite residents across different backgrounds, ethnicities and ages."
Ends
https://investderrystrabane.com/wp-content/uploads/2019/04/GrassRoots@Strabane260319RM05.jpg
468
700
Ciaran McKane
https://investderrystrabane.com/wp-content/uploads/2018/04/InvestDerry_Strabane_logo_small-003.jpg
Ciaran McKane
2019-04-24 14:38:15
2019-04-24 14:38:16
Strabane Community Project's 'Grass Roots Café & Food Market' joint winner of £2k Social Enterprise Competition