INVEST NI, TOURISM IRELAND AND THE NI BUREAU PROMOTE DERRY-LONDONDERRY AS A KEY DESTINATION FOR TRADE AND TOURISM
INVEST NI, TOURISM IRELAND AND THE NI BUREAU PROMOTE DERRY-LONDONDERRY AS A KEY DESTINATION FOR TRADE AND TOURISM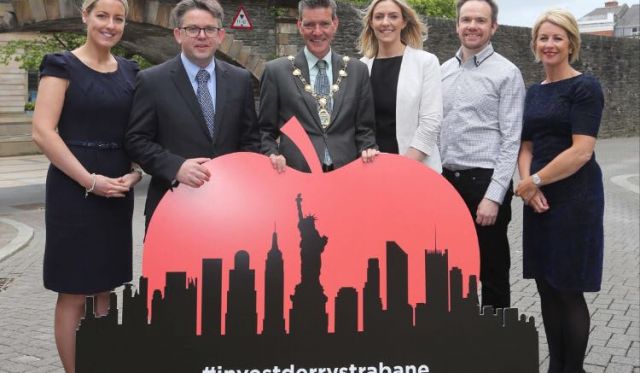 Derry City and Strabane District Council [DCSDC] utilised the Clipper Race stopover in New York to promote itself as a 'City and Region of Opportunities' across both the leisure and business tourism industries. In partnership with Invest NI, Tourism Ireland and the NI Bureau the event's audience consisted of businesses, investors, travel and trade operators from the tri-state area, travel media and Ireland NW diaspora.
The objective of the event was centred around tourism promotion and development, building upon DCSDC's association with the Clipper Race where by Derry-Londonderry is the a Host Port Partner. The Clipper 2015-16 Race and Foyle Maritime Festival 2016 attracted 163,000 visitors across the nine-day event, 25 per cent of which originated from outside of Northern Ireland which provided a global platform for the city to be promoted as a key destination for tourism. It also resulted in an economic boost of £5.1 million GBP [£3.46 million attributed directly to the festival] to the city.
Attended by the new Mayor John Boyle who was part of the delegation that travelled to New York in conjunction with the race, the event also provided an opportunity for potential investments, engaging with New York businesses to promote DCSDC as an investment location. Another contributing factor for the event was to strengthen international relations, raising the profile of DCSDC and build its diaspora network in New York.
Speaking about the event and visit to New York, Mayor John Boyle said: "The Partnership with the Clipper Race provides us with an international platform from which to generate extensive media exposure for our city and brand in international markets, to promote tourism and to stimulate trade and investment. I was delighted to be part of the delegation that travelled to the US for the Clipper Race stopover to continue with the excellent work that is being done on the ground to develop business links, put job creation and investment to the fore and promote our unique tourism and cultural offering to a new and captive audience"
Guests were formally welcomed to the event by Alison Metcalfe, Executive Vice President, USA & Canada at Tourism Ireland. Norman Houston, Director at Northern Ireland Civil Service then provided a valuable insight into the work the NI Bureau does before the Mayor of Derry City and Strabane spoke around his new role and the global impact the Clipper Race has provided Derry-Londonderry. Clipper Race skipper Conall Morrison, who is local to Derry-Londonderry, was invited to speak around his experience as a Race Skipper and his feelings around sailing into his home town on board a Clipper Race yacht during the Foyle Maritime Festival.
The event raised the profile of the Walled City of Derry where the Atlantic Way meets the Causeway Coast, promoting the city region as a connected, competitive and cohesive region positioned as a gateway to the UK, Republic of Ireland and numerous European markets.
https://investderrystrabane.com/wp-content/uploads/2018/07/audiences-in-the-united-states-to-hear-about-derry-s-unique-halloween-story-1.jpg
373
640
Colm Begley
https://investderrystrabane.com/wp-content/uploads/2018/04/InvestDerry_Strabane_logo_small-003.jpg
Colm Begley
2018-07-10 12:13:09
2018-12-10 14:18:37
INVEST NI, TOURISM IRELAND AND THE NI BUREAU PROMOTE DERRY-LONDONDERRY AS A KEY DESTINATION FOR TRADE AND TOURISM